The Newry Coder Dojo is a meetup every fortnight during the summer of 2016 in Newry Library from 1pm until 4pm.
Numbers are limited so please register on Event Brite.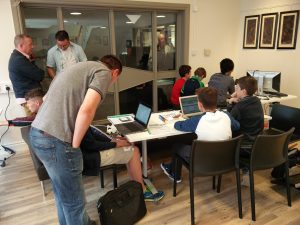 Learn how to code, or if you already can, improve your skills. Build cool stuff, from games to websites to animations to apps. Meet people like you who are interested in the same sort of things. We also have a few Raspberry Pis setup, drones and other goodies too!
Important
If you are 13 or under, then please make sure a parent or guardian is with you. If you're 13 or over, then we will ask for details of an emergency contact person if they are not staying. On Event Brite you do not need to book a ticket for a parent/guardian we just need the childs name(s) as part of the U18s tickets.
What to bring
If you have access to a laptop, please try to bring that. Please also make sure it is fully charged.
For some activities, it is useful to have software installed beforehand.  If you have chance – please take a look at the software list here.
Where?
Newry Library is at 79 Hill St, Newry, County Down BT34 1DG
If you are coming by car there is a car park close by on North Street.
Photo Permission
Parents or guardians – please note that you in agreeing to image consent you are also doing so on behalf of your children. If you have any questions about this consent then please email [email protected]
Consent covers the use of photographs and video recordings of myself, taken by members of Newry CoderDojo, LibrariesNI or by agents authorised on behalf of Newry CoderDojo or LibrariesNI, for the following purpose(s):
Publicity, marketing or media coverage in the context of Newry CoderDojo or LibrariesNI in print, online and video content.
Who?
Newry CoderDojo is run entirely by volunteers. Most of us are also parents. We're very grateful to the team at Newry Library for hosting us.